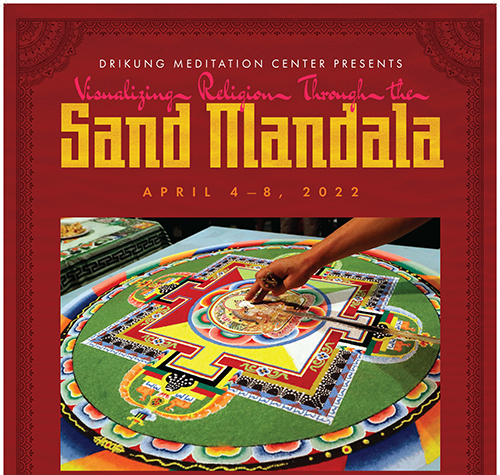 Dates: April 4-8
Time: 9:30 a.m. - 4 p.m.
Location:
George S. & Delores Dore Eccles Art Gallery
Salt Lake Community College, South City Campus
1575 South State Street, Salt Lake City, UT 84115
A sand mandala is a symbolic representation of Tibetan Buddhist philosophy, & a type of meditation monks use to develop wisdom. Constructed with millions of grains of colored sand, the mandala takes at least a week to construct.
This is a rare educational opportunity to learn more about this process & product of Tibetan Buddhist artistic, cultural, and religious expression as well as the use of visual tools & techniques in other cultures.
Schedule of Events:
All events are free and open to the public
Venerable Lamas Konchok Sonam Karushar, Nyima Gylan Tamang and George Ningpo will create a Sand Mandala on site.
Monday, April 4
10 a.m.

Opening Initiation Ceremony
Tuesday, April 5
Wednesday, April 6
Thursday, April 7
9:30 a.m. - 4 p.m.
11 a.m. - 12 p.m.

Student Presentations

Room 1-158, South City Campus

7-8 p.m.

Virtual Lecture "The Meanings & Methods of Mandala" with Dr. Hun Lye

Friday, April 8
9:30 a.m. - 3 p.m.
2:30 - 3 p.m.
Continues at 4 p.m.

Dissolution Ceremony


Three Creeks Confluence Park, 1300 S 900 W, Salt Lake City, UT 84104
SLCC strongly encourages everyone, regardless of vaccination or immunity status, to wear a proper face covering while on campus of while attending college events.
For more information: